Utility Equipment & Personnel Management
MiFleet assists with the daily management of people, vehicles and other equipment with increased efficiency and productivity in mind.  Customize your solution with weather overlays, geofences and points of interest to build your custom network of locations.  Respond to outages and emergencies without hesitation, MiFleet provides you insight to more then your fleet.
Recommended Solutions
Don't see what you are looking for? Contact Us.

Starter Interrupt
Install a Starter Interrupt on your vehicles and equipment to limited when it can be used. MiFleet can monitor your equipment, and even its ability to operate manually or on a defined schedule.
Benefits
MiFleet. More that just Maps.
Location Information
Receive up to the minute location information to validate vehicle location for dispatch and positioning.
Vehicle Management
Geofences alert you when vehicles arrive/depart key locations such as power stations, pole locations and maintenance yards.
Vehicle Maintenance
Optimize your vehicle's maintenance schedule from its odometer reading.
Custom Map Locations
Customize your map with points of interest to include maintenance yards, service locations & power stations.
Improve Driver Safety
Lower insurance claims and rates by coaching drivers from accurate driver behavior scorecards.
Vehicle Location History
Confirm and Validate vehicle arrival, on-site and departure times with historical GPS records.
0
%
Increase in Fleet Utilization
0
%
Decrease in Operational Costs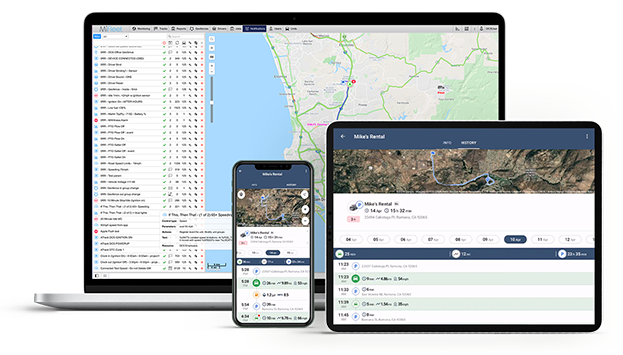 The MiFleet Platform
MiFleet is an enterprise grade, fleet management solution that enables companies to optimize their fleet operations by increasing their operational efficiencies and decreasing costs, such as fuel consumption, labor & maintenance and possibly even insurance premiums. The MiFleet platform is a highly customizable, cloud based GPS fleet tracking and management software designed to enable fleets with the latest technology at an affordable price.

Protect Your Fleet Today!
Got questions? We've got answers. For more information, contact us.