If your browser is still showing the site as insecure, you may need to follow the steps below:
Close out of any open web browser instances that have MiFleet open and then reopen https://login.mifleet.us/
If you still receive an error showing the site is not safe or the connection is not private, you may need to clear the browser cache. If you would like to clear the browser cache, please see directions below.
Google Chrome Instructions
https://support.google.com/accounts/answer/32050?co=GENIE.Platform%3DDesktop&hl=en
1. On your computer, open Chrome.
2. At the top right, click Menu (3 dots/hamburger icon)
3. Click More tools and then Clear browsing data.
Or in your browser copy and paste the URL:
chrome://settings/clearBrowserData
4. At the top, choose a time range. To delete everything, select All time.
5. Next to "Cached images and files," check the box.
6. Click Clear data.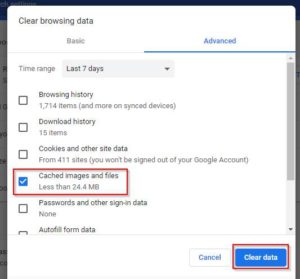 Close out of the browser, wait about 10 seconds and you can navigate to https://login.mifleet.us/
Mozilla Firefox
https://support.mozilla.org/en-US/kb/how-clear-firefox-cache
Select the lock icon next to the website and click on the Arrow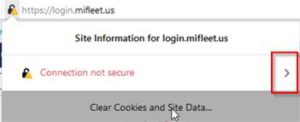 Next click on More Information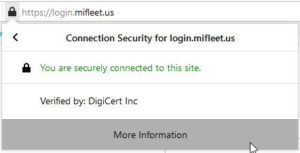 Select Clear Cookies and Site Data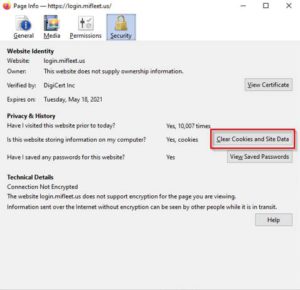 Select login.mifleet.us and click Remove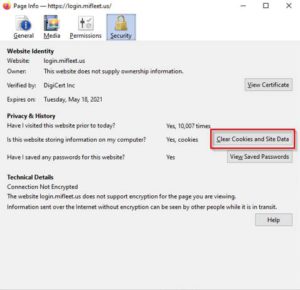 Close out of the browser, wait about 10 seconds and you can navigate to https://login.mifleet.us/
How to Change Your Password
If you just want to change the login password, after logged in, please see the screenshots below:
Top right corner, click on your username > User Settings > Then click on Change Password